Local SEO Tips to Help Your Small Business Thrive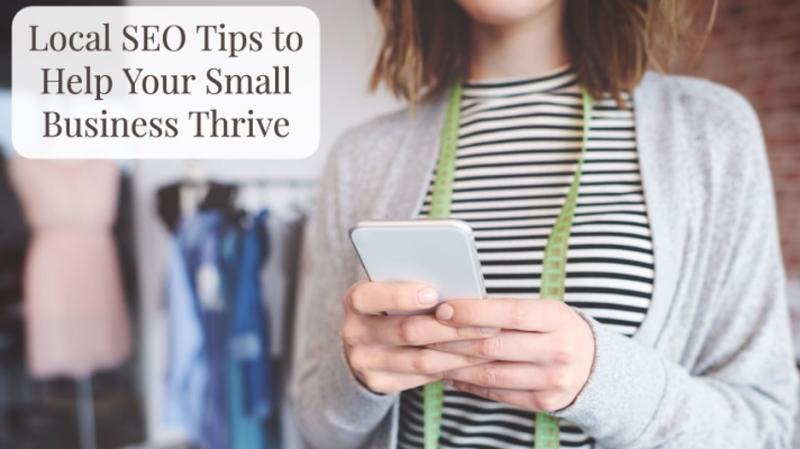 Small businesses have had a tough time over the past year. The Wall Street Journal reported that an extra 200,000 American businesses were forced to close during the pandemic, on top of the average annual closure rate of 600,000.
If your organization managed to make it through to the other side, that's cause for celebration. But after you've given yourself a pat on the back, you'll want to focus on how you're going to survive through 2021 and beyond.
While there are countless ways to grow your business, the implementation of a digital marketing strategy is a must. Undoubtedly, search engine optimization (or SEO) is one of the most cost-effective ways to improve your online presence over time. Best of all, you can level the playing field by using local SEO techniques.
Local optimization allows you to target potential customers within your community and raise your profile within your service area. Instead of trying to appeal to customers from all across the country, you'll be able to concentrate your efforts on those who are most likely to visit your business and buy your products or services.
But how exactly can you start using local SEO? The following tips can increase your online visibility and allow your small business to thrive.
Ask For Reviews
Online reviews are more important than ever. In fact, the majority of consumers now consider online reviews to be just as influential as personal recommendations from people they know.
Of course, negative reviews aren't great -- but having no reviews at all is even worse. Without any online reviews for your business, prospective customers will have a difficult time trusting your brand.
Most people will remember to leave a review if they've had a negative experience, but we forget to voice our support if our experience was a positive one. That's why you'll want to concentrate on generating online reviews from satisfied customers. You can remind your customers in person, via email blast, or through social media. Let them know how much you appreciate their efforts and how big a difference it could make for your business.
When you receive a review, make sure to respond to it promptly and with compassion. If the feedback isn't everything you hoped for, resist the urge to become defensive. Instead, make sure the reviewer feels heard and that you take the opportunity to showcase your customer service skills. Chances are that you might be able to mend the relationship -- and even if you can't, you'll show others exactly what your brand is about.
Make Your Site Mobile-Friendly
Optimizing your site involves a fair share of technical website work. It's not all about the kind of content you write; you also need to provide a great visitor experience.
Both Google and web users want to interact with easy-to-navigate websites. As such, it makes sense that your site rankings could be impacted by the type of experience you provide. A slow-loading website that makes it difficult to find vital information will probably have a tougher time with rankings than a site that's speedy and simple to use.
It's also important to remember that at least half of all web traffic now comes from mobile devices. As we use our smartphones and tablets more frequently, website owners need to embrace responsive design. You need to have a mobile-friendly business website that ensures accessibility for all, regardless of how it's being viewed.
If you aren't sure whether your site is mobile-friendly, Google has its own test you can use to check. Since a non-responsive website can hurt your rankings and alienate potential customers, you'll want to consider whether a redesign is warranted in the near future to prevent both of these issues.
Use GMB and Online Directories
Don't forget that your off-site presence can have a positive impact on your rankings. Google My Business (GMB) is a free platform your organization can use to connect with customers and even appear more prominently in search results pages. Be sure to claim, fill out, and optimize every possible section of your GMB profile.
You can also list your business in a variety of online directories. Yelp, Angi, Yahoo! Local, and tons of other industry-specific directories will allow you to include some basic information about your business. This can help Google to better identify your brand and serve relevant solutions to web users. Just make sure that all of your info is consistent across these platforms; even small discrepancies (like abbreviations or spellings) can make it harder for Google to recognize your business.
Optimize With Local Keywords
Of course, a big part of local SEO is keyword usage. Using relevant keywords throughout your website -- in your title tags, meta descriptions, headings, and throughout your content -- can help search engines understand context and recognize what you offer.
Rather than optimize your website with overly broad keywords, consider focusing on local keywords or long-tail keywords. These keywords will be more specific to your audience and better aligned with search intent, which means you may get more high-quality traffic and conversions. During your keyword research process, look for options that include your service area or specific services and products with a location. These keywords should have decent search volume without being too competitive.
When optimizing your site with these keywords, you may want to create separate landing pages for each service area or an FAQ page. These pages will allow you to easily use these keywords in a natural way.
Running a small business can be a huge challenge. But with local SEO, you can make an impact and get noticed online. Try out these tips for yourself and watch your efforts pay off!